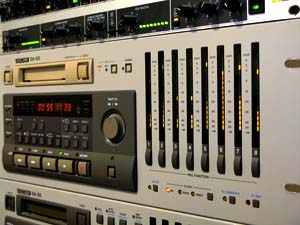 A dedicated multimedia PC with 24 simulatneous input/outputs, with very low latency - using 3 M-Audio Delta 1010LT PCI cards.
Mackie Onyx 24-4 mixer.
Tascam DA-88 digital 8-track.
Tascam DA-38 digital 8-track.
Behringer Virtualizer FX processors, Compressor/Limiter, and sound processors.
Behringer headphone amp for splitting headphone signals up to 8-ways.
50' 24-channel snake.
An assortment of mics, DI's and stands. GMLG generally prefers to rent mics as needed, so that the right mic for the right job is on hand.
A huge variety of cables and adapters.